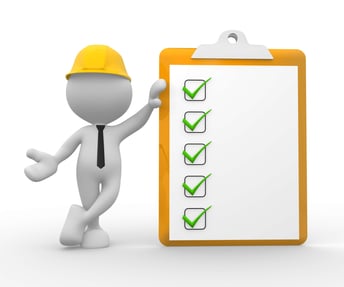 You wouldn't dream of inviting an unverified contractor into your home to make repairs...let alone the homes under your care as a member of the HOA board. The results of a third-party contractor's work will ultimately affect tens to hundreds of fellow homeowners.
Make the process easier and more effective for your HOA board by following a well-planned checklist. That way everyone's on the same page from start to finish. Here are 10 tips your HOA board can use to hire a third-party contractor.
1. Hire Slow, Fire Fast
Taking the time to find qualified contractors is an important duty of HOA board members. When you follow the recommended steps for hiring a contractor, your HOA board will automatically slow down to make sure each step is done right. With a well-planned contract in hand, you'll know right away if the contractor isn't meeting contract specifications or if something doesn't feel quite right. Trust your instincts. You have three days to cancel from the signing of the contract. If things are already off track, cancel the contract and move on. You'll save your HOA board and members lots of time, money, and headaches.
2. Talk to the Experts
Look for experts who stay current with solutions regarding HOA matters, such as members of the California Association of Community Managers (CACM) or trustworthy property management companies.
3. Avoid Bidding Mistakes
Before requesting bids, HOA board members must answer this question: What needs to be done? Large maintenance projects can be costly, so make sure your money is well-spent and avoid as many complications as possible. Your fellow HOA board members must determine the exact specifications for the job, the time frame for completion, what it will look like when it's finished, and how much money is available to spend. Carefully prepared plans are essential to getting accurate bids.
Look at these differences called "the good, the bad, and the ugly" by the Contractors State License Board.
Make sure your HOA board has detailed specifications on every bid request to avoid the bad and the ugly.
4. Do Your Research
When your HOA board has the project clearly specified, begin your search for reputable contractors. Check out reviews on Yelp, Google, and websites like Angie's List. Ask fellow HOA board members for referrals. Make a list of contractors to consider, and then check their license status and whether they have any complaints against them at the Better Business Bureau. Enlist help from HOA board members to make phone calls and ask basic questions such as the contractor's experience with similar projects and a list of corresponding references.
5. Conduct Interviews
Even though the second cousin of an association member comes highly recommended to the HOA board, meet prospective contractors in person. It's important that anyone working on your property has a professional appearance and demeanor. Make sure they show up on time for their interview, give you up-to-date contact information, and readily provide answers to your questions.
6. Get at Least 3 Bids
Now that you know your project specs and have checked at least three references for each contender, submit your RFP to at least three contractors. Not only does this give you options and price comparisons, but it shows that you have done your due diligence as a board.
7. Protect Your HOA Against Losses
Always require a certificate of insurance before work begins on the premises. In addition, your HOA board can protect itself financially and legally by carrying worker's compensation insurance. If a contractor's employee is injured while performing work on your property, they could sue for damages. With worker's compensation insurance, your HOA board and association are protected.
Another layer of protection for your HOA board is to add your HOA to the contractor's insurance as an endorsement on their policy. This makes your HOA the first-party claimant in case your association is sued due to some mistake by the contractor. The additional insured documents should include both ongoing operations as well as completed operations.
8. Get it in Writing
All contracts should be reviewed by legal counsel before they are approved and signed by the HOA board. A well-written contract eliminates the need to rely on memory or trust. This is your HOA board's golden piece of communication and the best way to keep your project on track and in agreement.
9. Notify Your Members
The HOA board should post approved contracts on the HOA website in a password-protected member's area.
10. Call a Pro
If you don't have time as an HOA board member to hire and manage qualified contractors, or you want to make sure nothing gets missed, Hignell HOA Management can help. We have the resources and experience to help create caring communities. We'd love the privilege of helping you.