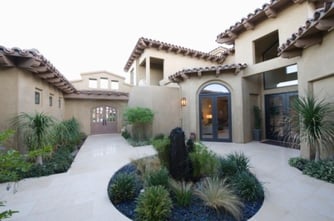 The California Drought is bringing more than just water woes. Some members of homeowners associations are having a harder time conserving water than would be expected, especially in the area of watering landscapes.
One new idea is drought-tolerant landscaping, which usually consists of visually appealing cement, rock, sand, dirt, and plants that need minimal to no water. However, this option doesn't always align with the policies and procedures of the homeowners association. Below is an excerpt from an article that provides a good example:
Posted by: CBS SF Bay Area
California Drought Leads to Neighborhood Turf Battles
BRENTWOOD (CBS SF) — Ed Pereira never thought that trying to save water at his Brentwood home would be so trying. Last month, he decided to take out his front lawn and put in drought-tolerant landscaping.
But Ed says his homeowners association isn't making it easy. The HOA rejected his first application.
"They came back and said that there was too much rock," Pereira said.
Then the HOA told Pereira that any plan would have to include at least 25 percent grass — either real or artificial.
Pereira has a problem with both those options and he's not alone.
"It's kind've the equivalent of paving over your yard and painting it green," says Ilana DeBare, with the Golden Gate Audubon Society in Berkeley.
Some environmental groups — including the Audubon society — cite concerns over artificial turf, ranging from carcinogens and chemicals to climate change.
As for Pereira, he says he just doesn't like the stuff. And, with current restrictions on watering, keeping real grass green isn't an option either.
"Basically they're asking me to put in lawn so I could let it die," Pereira said.
The HOA is now threatening Pereira with fines of $100 per day if he doesn't comply. It's a familiar story all over California.
"These kind of rules, they have to change with the times," says real estate lawyer Michael Mau.
[Continue to original article: California Drought Leads to Neighborhood Turf Battles]
Each homeowners association has its own set of rules and regulations when it comes to the appearance of the homes. Some issues are the responsibility of the homeowner and some are the responsibility of the Association. Any major changes like landscaping commonly require approval from the HOA board. It's best to consult the governing documents of your Association to know for sure.
New solutions for water conservation in an HOA – such as artificial turf – are popping up all over the place. Before you do anything drastic, be sure you are in compliance with your homeowners association.