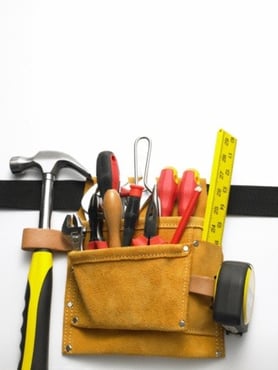 It's always convenient to have some tools in your tool belt – you never know when you might need one. Instead of a hammer, nails, screwdriver and measuring tape, there are tools that are handy for an HOA board to have access to - because you never know when you might need to refer to them.
Essential tools
These are vital for the Association to function. They include:
Covenants, Conditions & Restrictions (CC&Rs) – the highest level of documents in the Association, only overruled by the law.


Bylaws – dictate how the HOA operates as an organization.

Rules & Regulations – say what the homeowner can or cannot do.

Davis-Stirling Act – portion of the California Civil Code which governs condominium, cooperative, and planned unit developments in California. (If you live outside of California, check your state's civil code).
Reserve study – a long-term capital budget planning tool that conducts a study of the basic components the homeowners association is responsible for. This could include roads, roofs, painting, swimming pool upkeep, landscape replacement or any long-term assets that require periodic maintenance.

Experts - lawyer, accountant, manager, etc.
The success of the homeowners association and how smoothly it runs is based on the HOA board and member's understanding of these components, proper enforcement, and compliance.
Optional tools
These aren't required for the Association to function, but they are highly recommended for the Association to function well. They include:
Manager – to help the HOA board understand documents and laws, provide guidance, and keep up-to-date on laws and changes.


Reserve specialist – technically, anyone can do a reserve study, but a specialist knows the ins and outs of doing a reserve study and will notice things a novice might overlook.


Contractor – it's important to find a credible person, at a reasonable price, who will perform quality work.
It's nice to have people you can trust and who you work well with in order to get a job done or a problem solved.
Member tools
These can help improve the quality of life in your homeowners association by creating a sense of community. They include:
Newsletter – to keep members informed of projects, events, changes, meetings, etc.


Annual Meeting – to give members the opportunity to learn about the status of the Association.


Events – a health fair, blood drive, campaign to support local organizations, etc.


Clubs – tennis, biking, dramatic plays, book club, etc.


Social gatherings – summer pool party, Association barbecue, dance party, movie night, etc.
Providing opportunities for people to get together and having a place for them to gather will help members take ownership of the Association.
A proactive, knowledgeable HOA board is a successful one. Keep these tools in your tool belt and your homeowners association will be a thriving place to live.